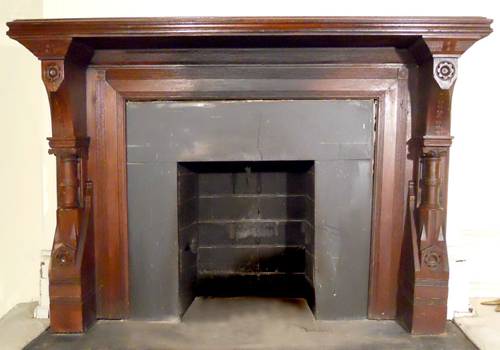 FRANK FURNESS
Walnut Fireplace Surround, circa 1876
Construction attributed to Daniel Pabst
48"high, 68 1/2" wide, 42 3/4" inside width,
37 1/2" inside height, 71" shelf width, 13 1/2" shelf depth
This restrained fireplace surround was designed just after Frank Furness completed the Pennsylvania Academy of Fine Arts building in 1876, which was when his most flamboyant "Modern Gothic" ideas were blossoming throughout Philadelphia and its suburbs. It has all the details characteristic of Furness work at that time—lobed flower medallions, squat columns bisected with a band of carved dots set upon raking plinths, beveled corbels, and ribbed bands and target-shaped roundels—without the overwhelming scale and terrifying monsters, which brooded in the shadows of the halls and parlors in the grand houses of the Cassatts, Roosevelts, and the Moores because it was produced for a modest West Philadelphia row house.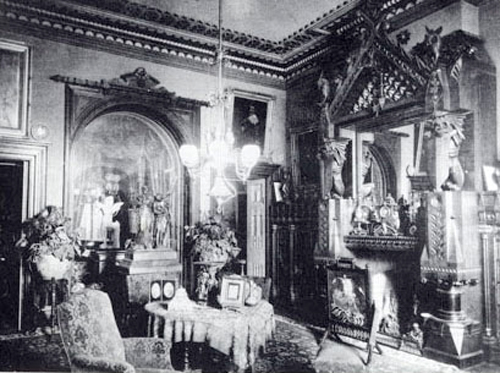 Current scholarship asserts that cabinetmaker Daniel Pabst made much, if not all, Furness woodwork to the architect's specifications. If so, this mantle and its mate were likely made in the Pabst shops.